Oh, Friends! It is hard for me to express how excited I am for this week's interview! Meet Raphael Geroni, the designer behind the mind-blowing cover of my latest book, Elon Musk: A Mission to Save the World. When I first saw the cover, it took my breath away. And I can't actually imagine a more difficult task than designing a cover for this particular book.
Elon, his life, accomplishments, personality, challenges, and the news coverage that swirls around him are all so complicated. How do you tell that kind of larger-than-life, complex story into a single book cover? And yet, Raphael did just that, pulling off a miraculous design feat.
I wanted to know more about him, his process… well, how on Earth he did it. And thankfully, Raphael agreed to an interview. His answers had me smiling from ear to ear because what he does is so fascinating and I learned so much!
So, let's get right to this Q&A!
Anna – I have to admit when I thought about the cover for this book, I thought wow, that is an impossible task. So when I received an e-mail with my first peek at the cover, I nearly passed out. It's so good! Were you intimidated by the project?
Raphael – I'm SO happy to hear that you were pleased with the cover! I started working on the cover immediately upon being hired for the project since I knew it would be the trickiest component to get right for the book on a subject that's super specific but more multifaceted than most. I would say that I felt more excited than intimidated, and I especially enjoy challenges where there's a lot of content to distill into one visual rather than trying to make one subject seem more interesting than it really is.
Anna – When you approach the design of a book cover, where do you begin?
Raphael – I always begin by spending a significant amount of time with the sample materials to discern who the book's content is speaking to and how I might be able to attract a person who is already interested in the topic and at the same time one who might be surprised to find the book and ultimately become interested in the subject through a singular design.
I then start pulling visual references to create a mood board of sorts that might inspire a direction or voice while simultaneously sketching tiny one-inch rectangle thumbnails of basic composition ideas. I also write out the title, subtitle, and author's name repeatedly in a variety of sizes to figure out the hierarchy in a very rudimentary way. When I feel like I have something worth exploring, I finally dive into the computer and focus on the typography on a blank page until something reads well. Then, I start image-making. I usually end up throwing out my initial typography exploration once I get excited about the image-making process, which seems like a waste of time, but once I have the "formula" for the text that I'm working with, everything falls into place easier and I always have a home base to remind myself of what is working and what isn't.
Anna – When I have shown the cover to other people, the response is the same "Whoa! I want a poster-size version for my house." What I love about it is the storytelling. In such a small space you encapsulated this epic tale. It is the feeling of a blockbuster space classic and yet it feels fresh and edgy. How did you pull that off?
Raphael – That's so cool! One of my favorite challenges, specific to book cover design, is how many sizes the cover will eventually need to be used. For books, the cover needs to work as small as a thumbnail on Amazon or an e-book device, a photograph on Instagram, in actual size on a bookseller's table or shelf, and as large as a billboard in Times Square. This affects the actual approved design often because the general critique is to make the typography bolder and to increase the contrast throughout so Amazon shoppers can see everything clearly before they have the book in hand but I am a big fan of trying to be subtle while still having a nice amount of contrast. Book cover design is actually very similar to designing album covers. The original 12″ LP was a terrific format for artists but it was condensed many times into a variety of smaller formats, eventually plateauing at a 5″ x 5″ CD for a while and then reduced even further to a thumbnail on iTunes and Spotify. This affected the work that was made and could be approved, but now there's a great renaissance of beautiful album artwork on vinyl again, which is fabulous! Books had the same plateau where a great deal of focus was on the cover being successful especially through digital venues. But similar to albums, there's a wonderful resurgence of books existing as deluxe physical items, proving that they have an impressive value and that consumers are willing to spend money on them. Design has a critical role in this and I make sure that I'm always adding value and that the projects I design couldn't exist in digital form.
Anna – The way you layered the celestial bodies, what inspired that?
Raphael – I knew that one celestial body wouldn't be enough to convey the scope of Elon Musk's ventures and that only choosing one would emphasize a message that's too specific. I have an affection for symmetry and geometric shapes when working on any book cover and when I started playing with images of the moon, Mars, and Earth, I decided to try to see how they might look next to each other, true to scale, and whether or not I could layer them in some way. I would have never come up with the final result without experimentation and time.
Anna – I know storytelling is important to you. Explain how book covers convey storytelling.
Raphael – Yes! Storytelling is the most valuable commodity to me and I devour it in every form I possibly can whether it's in music, film, television, art, and of course book covers, too. When my husband and I are bingeing a show on Netflix he frequently asks me: "What do you think about the storytelling?" because he knows that when I'm frustrated with the way things are going in a story, that I make a certain face and proclaim "this is lazy storytelling!" over and over again, haha. I really appreciate when effort has been made to consider that consumers love and can handle complicated themes and stories.
I think it's important, as a book cover designer, to be conscious of a consumer's personal interpretation of the visual work but to assume the responsibility of at least getting someone started in the right direction à la Dorothy in The Wizard of Oz. I'm basically the Glinda the Good Witch of book design. I set the reader off on a journey with some tools for navigation but it's what the reader takes from and does after the journey of reading that really matters. I already have the advantage of knowing what's in the book I'm designing so I just have to make sure everything makes sense at the beginning and end of the reader's journey.
I'm known for designing deluxe non-fiction titles and it's a challenge that I enjoy because there is so much to draw from for inspiration. I have the impression that people would think that it would seem easier to create covers for fiction titles where things can be quite open and interpretive but it's actually very tricky to consistently deliver a balance of familiarity and freshness in non-fiction.
Anna – When dealing with images of Elon, I imagine most people would immediately think of a headshot, eyes looking right into the camera. You went in a completely different direction. What drove that design decision?
Raphael – I imagined that people would expect the same thing, too! Frankly, when I was hired for the project, Elon Musk's image was being prominently used during one of his more recent scandals but through the lens of tabloid fodder and I didn't want the book to get lost in the fray and found guilty by visual association. Fortunately, I was able to find a rather moody shot of him that people would still recognize but could be used in a way to convey gravitas and presence rather than a subject under an exploitative microscope.
I found it to be very important that the viewer immediately recognize Elon Musk's work and life as a very real and very modern story that is still unfolding.
Anna –  You really did nail the things are most important to Elon in one image. How did you do it?
Raphael –With any book cover, iconography is always important and with Elon Musk, I knew I would have to limit myself but try to get as many as I could in one image because he's involved with so many different things. I contemplated adding a Tesla somewhere but I knew that adding just one more element that it could get messy-looking.
Anna –  Were you an Elon Musk fan before this project? Were you already aware of what he was doing or is part of your process really delving into the story to come up with the cover?
Raphael – Yes! I have always been fascinated with space and first learned of Elon Musk's work through researching SpaceX. More than once, my husband has found me clutching my laptop and silently weeping while watching the live feeds of the Dragon rockets returning to Earth in one piece. The technology is so thoughtful and I just can't get over how smart one has to be to make it all work. It's always great when I am hired to work on something where I already know a little bit about the subject. But, it presents the design problem of how do you explain this in a visual way to someone who doesn't know who this person is or what this topic is about, and how could you make them want to know more? Through book design, I've learned so much about so many different things and it's exciting to wonder what I'll be discovering in my next project!
To be continued . . .
Um, did I tell you this was a great interview! Well there's more to come. After all, design doesn't stop with the cover, we'll find out about designing the inside of the book! Read PART TWO of our interview here. Plus, here's where you can check out more of Raphael's impressive work.
In the meantime, I have some fun pre-order fun to tell you about! Right now when you pre-order a signed copy of Elon Musk: A Mission to Save the World, through my local bookstore (Print: A Bookstore), you'll be entered to win a super fun prize: your very own Zero-G Indicator :) This Earth plush is just like the one the SpaceX team sent to the International Space Station aboard Crew Dragon. A winner will be chosen on book l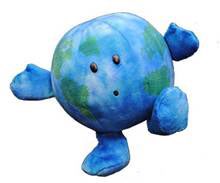 aunch day, July 2, 2019.
Good luck!
Anna